About Us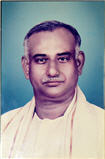 Late Shri N.R. Krishnama Raja Shri P.R. Ramasubrahmaneya Rajha
Founder Chairman of Ramco Group of Industries


Madras Chipboard Ltd., was founded by Late
Sri N.R. Krishnama Raja,
a renowned Businessman and Philanthropist in the year 1965. Being a visionary, he desired to start an Industry to produce Innovative products that are qualitatively best, durable, and at cost effective prices. His deep love of lush green forest inspired him to manufacture doors that would use the lowest amount of wood material to prevent the destruction of valuable and fast depleting green forest . Our doors only take 30% of the natural wood than the conventional wood doors that consume enormous amount of natural wood logs. Even this 30% of the wood comes from the twigs of trees and not the logs, saving 70% of the forest trees required for the same purpose.

Fig: Sample twigs used for veneer doors.
Fig: We don't use the trees per se.
This is his little contribution to fight the green-gas effect that results in the rise of temperature in the environment and its attended perils. His foresight helps in the availability of trees for more generations to come.
Bearing conservation of forest trees in mind, he visited Europe in early 1960s to scout for knowhow and machinery that would enable the use of twigs as raw material and was impressed by the overall performance of machinery in Czechoslovakia. He imported all the required machinery from Czechoslovakia and started producing top class particle boards, doors and furniture. In early 60s, there was not a single industry in Tamilnadu state that produced particle board products. This particle board is used for making furniture, panels for interior decoration and flush doors,using foreign knowhow and equipment. We are the only manufacturers of particle board who use twigs as raw material, even today. Also, we are the only manufacturers of particle board core flush doors, in the whole of South India.The doors are very well received by consumers for the past more than 40 years for its uncompromised quality and durability.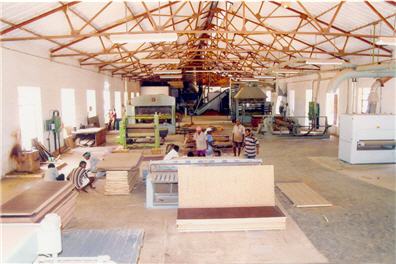 Fig: Production Centre inside the Factory
Madras Chipboard Ltd. is managed by the Board of Directors, under the eminent leadership of
Shri P.R. Ramasubrahmaneya Rajha
, Chairman of Ramco Group of Industries. The day-do-day affairs of our Company is steered by the son of Shri N.R. Krishnama Raja, namely, Shri N.K. Ramasuwami Raja, Managing Director.
Board of Directors:

Shri N.K. Ramasuwami Raja Managing Director
Shri S.S.R. Rajkumar Director
Shri.S.J. Srikanth Director
Shri S. Neethiraj Director
Shri P.J. Ramkumar Rajha Director
Smt. D. Swarnalukshme Director

Our Laxmi brand Flush Doors and Blockboards, are reputed for its consistent quality, high durability and affordable cost. Good Customer Care, Fast Delivery are our hallmark!

With over 40 years experience in this business, we are in a position to fulfill your requirements by offering a wide range of products given in the Gallery page.